50th Anniversary Commemoration
Celebration, Consciousness-Raising, Sowing the Future
Our yearlong celebration during the fall of 2019 and spring of 2020 will recognize the founding of our CCS program in 1969 and fifty years of engagement with social justice-oriented scholarship and community service.
Fall 2019 Events
Just Like Us
This play, by Karen Zacarias, is about four young Mexican-American women who have lived in the U.S. since childhood. It explores the women's personal life stories and the complex and controversial politics that surround the issue of immigration. Directed by Peter Cirino.
September 27-October 6, 2019 | Experimental Theatre | SDSU
$17 students/$20 public
Faculty member Dr. Roberto Hernández will be present to give a talk-back at the end of the performance on Saturday, September 28th only. Join us!
This theatre production is in collaboration with SDSU's School of Theatre, Television, and Film and Arts Alive!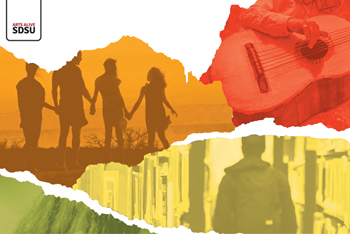 ---
International Conference Celebrating the 50th Anniversary of Chicana and Chicano Studies, Hosted by COLEF
Academic Panels
Photography Exhibit
Art Exhibit
Film Festival
October 10-12, 2019 | Colegio de la Frontera Norte (COLEF) | Tijuana
Free and open to the public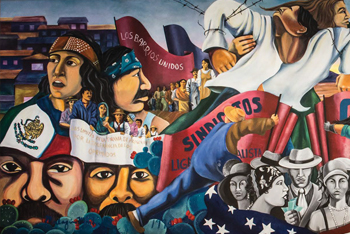 ---
Culture Clash
Members of Culture Clash, Ric Salinas and Herbert Siguenza, will be curating a 90-minute performance/lecture/Q & A. Each artist will be featuring their solo work along with endearing characters they have portrayed as members of Culture Clash!
This event is presented in collaboration with MALAS, SDSU Press, General Studies, and One SDSU.
October 15, 2019 | 4-6 pm | Student Union Theater| SDSU
Free and open to the public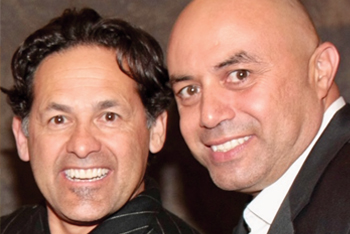 ---
Lens on Chicana/o/x Children's Literature
This exhibit of contemporary children's books introduces readers to key authors, illustrators, and major publishers. Cosponsored by CCS, the exhibit is organized by the Children's Literature Librarian Linda Salem and the SDSU Library. They join us in celebrating our 50th anniversary!
Location: Children's books area, Love Library, 4thfloor
October 21, 2019 - May 15, 2020
Image: The book Dreamers by Chicana author and illustrator Yuyi Morales. It was selected this year as the One Book One San Diego selection for children by KPBS and the San Diego Public Library.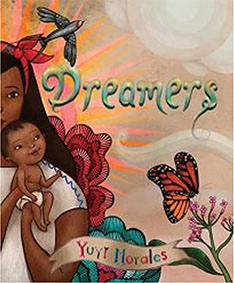 ---
Day of the Dead Altar — "Those That Came Before: Stolen and Offered Lives"
In collaboration with the Chicano/a Collection at Love Library, Dr. Norma Iglesias Prieto's CCS students will build a large traditional altar to honor Chicano/a/x-Latino/a/x civil rights activists, especially local activists. We will also honor migrants, including children, who have died trying to cross the border. In conjunction with the altar, a temporary wall mural focusing on the origins of our department will be on display near the entrance to the Collection as well as a student-created archive exhibit using materials from the Chicana/o Archive. The altar will be presented November 1-15 and serve as a programming platform for other events.
November 1-15, 2019 | SDSU | Chicana and Chicano Collection Love Library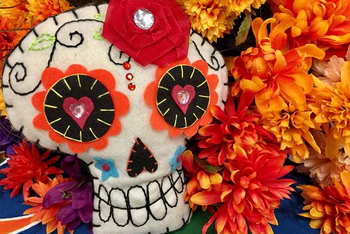 ---
Day of the Dead Commemoration and Program
Short lecture
Music
Food
Art project
The program will include an overview of the meanings of Day of the Dead, a recognition of the individuals whose pictures appear on the altar, and a musical performance. Biographies of the local civil rights activists honored on the altar will be available for viewing. These were researched, written, and produced by Chicana/o Studies students and will subsequently be placed in the library's Special Collections.
November 1 | 12-1:30 pm | Chicana/o Collection, Love Library
Free and open to the public
Thanks to generous contributions by various donors.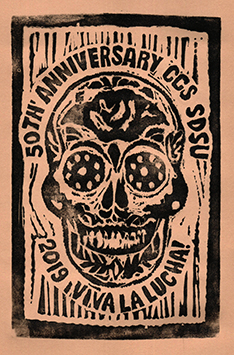 ---

In collaboration with the Department of Chicana and Chicano Studies, Dr. Alda Blanco will curate a mural titled Origins: SDSU's Department of Chicano Studies (1968-1972) as part of our 50th anniversary commemoration activities. The mural will be located just outside the Chicana and Chicano Collection in Love Library on the first floor. Dates: In process, TBA.
Dr. Blanco's curatorial statement:
"The mural tells the story of how a fearless handful of Chicano students and faculty established one of the first Chicano Studies departments in the nation. Told through documents from SDSU's magnificent Chicana and Chicano Archive Collection (Special Collections, Love Library), Origins honors and celebrates the political imagination and tireless activism of those who fought to create and institutionalize Chicano knowledge to contest the white gaze that was dominant in institutions of higher education."
Co-sponsored by the College of Arts and Letters and the Department of Spanish and Portuguese.
---
Juan Felipe Herrera Poetry Reading
California Poet Laureate (2012-2014), U.S. Poet Laureate (2015-2017), and the first Mexican-American to hold these positions, Juan Felipe Herrera will read from his works.
This event is presented in collaboration with the Departments of Africana Studies, Anthropology, History, Rhetoric and Writing Studies, English and Comparative Literature, Linguistics and Asian/Middle Eastern Languages, Spanish and Portuguese, the National Center for the Study of Children's Literature, the Center for Latin American Studies, the SDSU Living Writers Series, and the College of Arts and Letters.

November 6 | 4-5:30 pm | Conrad Prebys Aztec Student Union Theatre | SDSU
Free and open to the public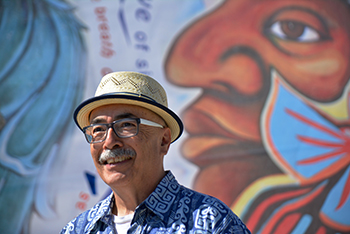 ---
---
Spring 2020 Events

50th Anniversary Community Celebration Dinner and Program
March 21, 2020 | Parma Payne Goodall Alumni Center

More events to come.
SDSU Parking Information

All cars (even those with ADA placards/plates) need an SDSU parking permit to park in student or visitor spaces. Save time and money by purchasing a parking permit prior to driving to campus. Create a guest account through the Aztec Parking Portal, purchase the $6/day permit, and place the printed permit on your dash once parked in a student parking structure. Permits can also be purchased on campus for $3/hour or via PayByPhone App (download prior to arriving on campus).
For more parking information, please visit https://www.sdsu.edu, select "About" and then "Parking at SDSU."