About Us
Statement of Lament and Solidarity
Our department condemns the violent acts committed against the Asian American community in Atlanta, Georgia on March 16, 2021 and gives our heartfelt condolences to the families of the murdered individuals, including Delaina Ashley Yaun, Xiaojie Tan, and Daoyou Feng. Yesterday's shootings form part of nationwide rise in violence, discrimination, and xenophobia directed against Asian American and Pacific Islander communities.
We reject the diversionary attempts to dismiss the racial motivations of this violence, and efforts to accept easy explanations that obfuscate the ways that racism is deeply entangled in American life. The shootings reflect the point made by sociologist Nancy Wang Yuen at Biola University that "racism has always intersected with sexism for Asian American women in this country".
We publicly reaffirm our longstanding commitment to social justice, equity, and anti-racist work and call on all to actively contest all forms of racism, sexism, and white supremacy.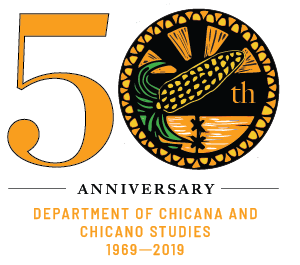 The Department of Chicana and Chicano Studies is one of the first of its kind in the nation and we recently celebrated our 50th anniversary! We are an interdisciplinary and transnational program of teaching, research, and public service that provides students with the opportunity to explore the history, politics, culture, and ethics of Chicana/o/x-Latinx communities on both sides of the U.S.-Mexico border.
Our mission is to develop interculturally aware 21st century leaders who engage in social-justice oriented community service and scholarship. We achieve our mission through our curriculum, research, and knowledge production, which explores race, gender identities, class, immigration, and ethnicity, and emphasizes the U.S.-Mexico borderlands (history, sociopolitical contexts, comparative and symbolic borders), expressive arts (art, cinema, music, theater), and community practices for social change (health, education, community organizing).
We are situated in one of the world's most dynamic metropolitan areas characterized by the international border and the rich perpetual flow of people, culture, and goods in both directions. Our faculty members—many of them pioneers in our field—use our location as a laboratory for research, teaching, and service.
Upcoming Events and Recent News
We have transitioned to remote instruction and the department office is now closed until further notice. Phone calls and e-mails to the department will continue to be monitored. If you have questions about COVID-19, please see the SDSU COVID information page.
We are excited to announce that a new interdisciplinary K-12 Ethnic Studies Teaching Certificate program is live! Dr. Michael Domínguez serves as program director. For more information visit the program website.


Congratulations to Professor Adelaida R. Del Castillo, whose new book, Fathers, Fathering, and Fatherhood: Queer Chicano/Mexicano Desire and Belonging, was just released by Palgrave Macmillan. The book was edited along with Gibrán Güido and brings together a collection of narrative accounts based on queer Chicano/Mexicano sons; it explores fathers, fathering, and fatherhood.
The Department of Chicana/o Studies had the honor of collaborating with the President's Office, the Office of International Affairs, and the Office of University Relations and Engagement to create this plaque for Dolores Huerta and publicly dedicate it to her during her recent Zoom campus visit on March 15th.