About Us
Statement of Lament and Solidarity
The faculty and staff of the Department of Chicana and Chicano Studies at San Diego State University express our heartfelt condolences to the family and friends of George Floyd who was tragically murdered at the hands of the police on May 25th. George Floyd's death is singular, but his experience is not unlike that of so many other Black people, including Breonna Taylor, Tamir Rice, Michael Brown, and Eric Garner. They were all killed by police officers whose actions are part of a longstanding pattern of state violence directed against Black people as part of a system of white supremacy.
Today, we lament the death of George Floyd and condemn the violence that was done to him, his family, and his community. Today, we condemn all state violence against Black people. We affirm that Black Lives Matter.
We also recognize that, despite our shared struggles, our intersections, and many instances of solidarity with African American communities, our Chicana/o/x-Latinx community in the U.S. also has a history of anti-Black racism. We repudiate any and all forms of anti-Blackness, including the erasure of Black Chicana/o/x and Latinx peoples.
In this moment of profound national grief and strife, we publicly reaffirm our longstanding commitment to social justice, equity, and anti-racist work, because, as James Baldwin once said, "Ignorance, allied with power, is the most ferocious enemy justice can have." We call on all to support Black lives within and beyond our communities by actively contesting all forms of racism and white supremacy.
For more on how Chicana/o/x-Latinx communities can support Black Lives Matter, you can watch the Univision segment featuring Dr. G. Cristina Mora (Berkeley), Dr. Claudia Sandoval (Loyola Marymount [LMU]), and Dr. Sylvia Zamora (LMU).
Please visit our News and Events page for related programming.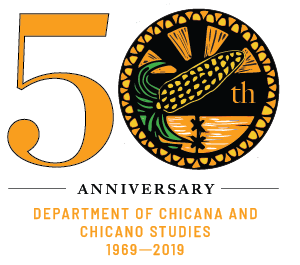 The Department of Chicana and Chicano Studies is one of the first of its kind in the nation and and we recently celebrated our 50th anniversary! We are an interdisciplinary and transnational program of teaching, research, and public service that provides students with the opportunity to explore the history, politics, culture, and ethics of Chicana/o-Latina/o communities on both sides of the U.S.-Mexico border.
Our mission is to develop interculturally aware 21st century leaders who engage in social-justice oriented community service and scholarship. We achieve our mission through our curriculum, research, and knowledge production, which explores race, gender identities, class, immigration, and ethnicity, and emphasizes the U.S.-Mexico borderlands (history, sociopolitical contexts, comparative and symbolic borders), expressive arts (art, cinema, music, theater), and community practices for social change (health, education, community organizing).
We are situated in one of the world's most dynamic metropolitan areas characterized by the international border and the rich perpetual flow of people, culture, and goods in both directions. Our faculty members—many of them pioneers in our field—use our location as a laboratory for research, teaching, and service.
Upcoming Events and Recent News


We have transitioned to remote instruction for the remainder of the semester, as has all of SDSU, and the department office is now closed until further notice. Phone calls and e-mails to the department will continue to be monitored. If you have questions about COVID-19, please see the SDSU COVID information page.
We recently celebrated our 50th anniversary with a yearlong program of events! We postponed our Community Celebration dinner and a Student Research Symposium due to COVID-19, and at this time, we do not have new dates. Learn more about our events. Read the articles in the Daily Aztec and on SDSU NewsCenter about the anniversary.
We are proud to welcome the newest member of our faculty, Dr. Andrés Ehecatl Aguilar! Bienvenido!
Congratulations to Dr. Norma Iglesias Prieto who has received an Alumni Association Award for Outstanding Faculty Contributions to the University for 2020-2021!
Congratulations to Dr. Roberto Hernández, recipient of the CAL Excellence in Service award for the 2019-2020 academic year!
Congratulations to Dr. Roberto Hernández! His book Coloniality of the US/Mexico Border: Power, Violence, and the Decolonial Imperative, has received an Honorable Mention in the 2020 Book Awards from the National Association for Chicana and Chicano Studies.