Norma Iglesias-Prieto, Ph.D.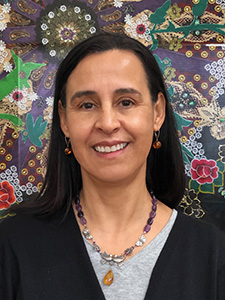 Professor
Participating in the Faculty Early Retirement Program - On staff during the fall semester only
Office: AL-398
Email: [email protected]
Norma Iglesias Prieto is a transborder scholar with an interdisciplinary education (B.A. in social anthropology, M.A. in communications, and Ph.D. in sociology). She is co-founder of El Colegio de la Frontera Norte (Tijuana; 1982) and she became a faculty member of CCS in 2000. She has 37 years of academic experience in cultural studies on the U.S.-Mexico border, with emphases on identity, gender, art, and mass media (particularly cinema). Dr. Iglesias Prieto's recent scholarship draws on the creativity potential as a mechanism to resist oppression and express human dignity, as well as on the role of the arts in the reconfiguration of the social fabric. She developed the concept of borderism in order to understand the different meanings of border experiences and practices. She is the author of five books, among them Beautiful Flowers of the Maquiladoras (1985/1997) and Emergencias: Las artes visuals en Tijuana (2008), 14 articles in academic journals, 25 chapters in refereed books, 10 chapters in art catalogues, and 25 articles in cultural journals. She also co-edited two books. Her publications are in English, Spanish, French, German, and Italian.
In addition to her academic work, Iglesias Prieto has experience as a media producer and art curator. She has been the screenwriter for various Mexican television series dealing with border issues. She has curated art events such as InSite 2000 (2000, film and video series, InSite, Tijuana/San Diego); MEXartes.Berlin (2002, video series, House of World Cultures, Berlin); Tijuana. The Third Nation... (2004/2005, visual arts, CECUT and ARCO, Tijuana/Madrid); Tijuana: Laboratory of Postmodernity (2006, video and film series, Cultural Institute of Mexico, Washington), Tijuana: Strange New World (2006, video and film series, Museum of Contemporary Art San Diego), Mexican Border Expressions (2013, multimedia projection, Shenzhen Urbanism/Architecture Biennale), Point of Entry (2016, multimedia and visual arts, San Diego International Airport), Back to Basics (2017, visual arts, The Front, San Ysidro), and Frontières? (2017, film series, Douarnenez Film Festival).