María Ibarra, Ph.D.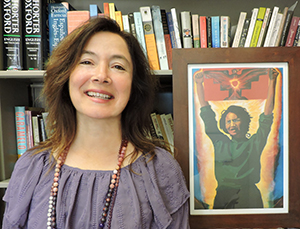 Professor and Department Chair
Office: AL-396
Phone: (619) 594-0316
Email: [email protected]
María Ibarra is a Chicana feminist scholar who now celebrates 25 years in the Department of Chicana/o Studies at SDSU. She received her Ph.D. from UC Santa Barbara.
Dr. Ibarra is nationally recognized as a pioneering scholar of private care work and she writes about ethics, violence, kinship making, subjectivity, and meaning making in relation to this important labor. Her articles are published in journals such as Urban Anthropology, Aztlán: A Journal of Chicano Studies, Frontiers: A Journal of Women Studies, Medical Anthropology Quarterly, Chicana/Latina Studies, Anthropology of Work Review, as well as anthologies, including Hidden Lives and Human Rights in The United States: Understanding the Controversies and Tragedies of Undocumented Immigration and Careworkers, Working Mothers, and Activists: New Research About Women in the Neoliberal Age. During the fall of 2021 she will be on sabbatical working on a manuscript titled Blood, Law, and Choice: Making Chicana/o/x Familias.