María Ibarra, Ph.D.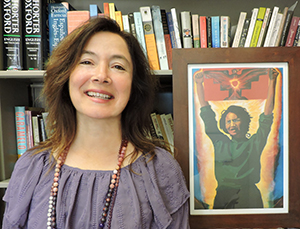 Professor, Department Chair, Undergraduate Adviser (on sabbatical Fall 2021)
Office: AL-396
Phone: (619) 594-0316
Email: [email protected]
María Ibarra is a Chicana feminist scholar who now celebrates 23 years of service and commitment to the Department of Chicana/o Studies at SDSU. She received her Ph.D. from the University of California at Santa Barbara where she was trained as a sociocultural anthropologist.
Dr. Ibarra is nationally recognized as a pioneering scholar of private care work in the era of globalization and she writes about ethics, violence, kinship making, subjectivity, and meaning making in relation to this important labor. Her articles are published in journals such as Urban Anthropology, Aztlán: A Journal of Chicano Studies, Frontiers: A Journal Of Women Studies, Medical Anthropology Quarterly, and Anthropology of Work Review, as well as anthologies such as Hidden Lives and Human Rights in The United States: Understanding the Controversies and Tragedies of Undocumented Immigration (2014), Careworkers, Working Mothers, and Activists: New Research About Women in the Neoliberal Age (2013), Intimate Labors: Cultures, Technologies, and Politics of Care (2010), Gender and Globalization in Asia and the Pacific: Method, Practice, Theory (2008), Chicano San Diego: Cultural Spaces and The Struggle for Social Justice (2007), and Women and Migration on the U.S.-Mexico Borderlands (2007). Most recently her essay "The Ties That Bind: Mexican Eldercare Workers and Aging Americans Construct Kinship," originally published in Anthropology of Work Review, was digitally reprinted in "Perspectives on Being and Growing Older," in Open Anthropology: A Public Journal of the American Anthropological Association.
Dr. Ibarra's article titled "I'm Passing Down Her Taste" was recently published in Chicana/Latina Studies. She is also starting a new research project that focuses on the delicious relationship between food, food spaces, and kinship among second and third generation Chicana/o/xs.