Victoria González-Rivera, Ph.D.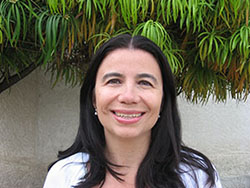 Associate Professor
Office: AL-394
Email: [email protected]
Dr. Victoria González-Rivera has been living on the U.S./Mexico border since 1999 and considers this region her second home. The daughter of a Nicaraguan man and a white U.S.-American woman, she grew up in a small town in north-central Nicaragua during the last years of the right-wing Somoza dictatorship, the leftist insurrection of 1978, the Sandinista revolution of 1979, and the Contra War of the early 1980s. After graduating with a B.A. in History, Women's Studies, and Latin American Studies from Oberlin College in 1990, she obtained her M.A. in Latin American History from the University of New Mexico and the Ph.D. in Latin American History from Indiana University. Professor Gonzalez-Rivera is the first woman of Nicaraguan ancestry to obtain a Ph.D. in Latin American History from a U.S. university and is a pioneer in the fields of Nicaraguan women's and LGBTQ history. In 2001 she co-edited the book Radical Women in Latin America. Left and Right. Her second book, Before the Revolution. Women's Rights and Right-Wing Politics in Nicaragua, 1821-1979, was published by Penn State University Press in 2011. With the support of a 2017-2018 American Council of Learned Societies (ACLS) Collaborative Fellowship, she is co-authoring a third book on 500 years of Nicaraguan LGBT history.
Professor Gonzalez-Rivera has been part of the Department of Chicana and Chicano Studies since 2005. She teaches courses on Mexican and Chicana/o history. Her classes address the history of colonial Mexico and the history of Chicana/os in the U.S. in the period after the Mexican American war. In addition to her work as a teacher and mentor at SDSU, she is an active member of her community and serves on several non-profit boards.