Michael Domínguez, Ph.D.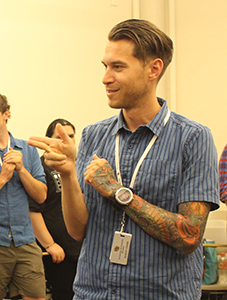 Associate Professor
Office: AL-355
Email: [email protected]
Michael Domínguez is Assistant Professor in the department with a focus on youth studies and education. Previously a middle school English and ESL teacher in North Las Vegas, Nevada, Dr. Domínguez received his Ph.D. in Education with a graduate certificate in Ethnic Studies from the University of Colorado at Boulder. While at CU, Dr. Domínguez served as co-founder and director for UMAS y MEXA de CU Boulder's Aquetza Program, focused on supporting decolonial and expansive learning for Chican@ youth and pre-service teachers through Chican@ Studies programming. At SDSU, Dr. Domínguez' courses include the introductory CCS 200 writing course, as well as Chicana/os and the Schools, Sports and Race, Chicana/o Theatre, and Postcolonial Masculinities. In addition to these courses, he is passionate about supporting emerging researchers of color, and is presently an instructor for the General Studies program, teaching a course that involves undergraduate students in service-learning and ethnographic field research, while providing them with mentorship as they learn to connect research activities to civic and community outcomes.
Dr. Domínguez' scholarship and research interests focus on the schooling experiences of Chican@ and historically marginalized youth, school athletics and race, Teatro del Oprimido, and liberatory teacher education. He is particularly interested in issues of youth identity construction, socio-political and socio-emotional development, racialization, affect, and community and family ingenuity, as well as decolonizing teaching and teacher education. His work can be found in the recently published volume on Culturally Sustaining Pedagogies (2017), as well as The Urban Review ,The Journal of Education for Teaching, and a chapter entitled Race, Affect, and Running: A Decolonial Perspective on School Athletics, in a new book on Sports and K-12 schooling (2018). His current work involves a research partnership with a local San Diego school, and employs social-design and critical-ethnographic research methodologies to explore the ways in which Latin@ youth are constructing new identities and navigating difficult affective experiences in the current Latinx diaspora, and the implications of this for youth, communities, and schools nationwide.